Hi, guys! How are you all?
Remember a few months ago when I participated on the blog tour of an amazing New Adult indie that then went and became a New York Times and USA Today's Bestseller? No? Here,
let me remind you
. It was Losing it, by Cora Carmack. (PS.: She's so nice!)
Now the blogger power has been called again for its companion novel, Faking It. This one is centered around Cade. If you've read the first novel, you might remember things didn't end up quite well for him. And he was so sweet! Aaw, I get all touchy about him. No, really. I do. I distinctly remember asking to read more about him the minute I was done with Losing It. I had to scroll through months of emails to give you proof of this, but here it is: "Cade left me curious, though. I'd like to read more about him if Cora ever decides to write about his post-Bliss life." This was dated Setember 22, 2012. I'm like.. psyquic or something.
And now, Faking It is a reality! As a reader, I cannot begin to tell you how happy this makes me. I feel like its long-distance crazy aunt. You know the one. The one that has no real influence whatsoever in your life other than pinching your cheeks every holiday and scolding you when you want more dessert, but when you make it big, she looks at you all teary-eyed and proud and points out that she always knew you were meant to be a star. That crazy aunt.
And now, I want you to forget all that rambling from before and concentrate real hard on what I'm about to show you. Ready?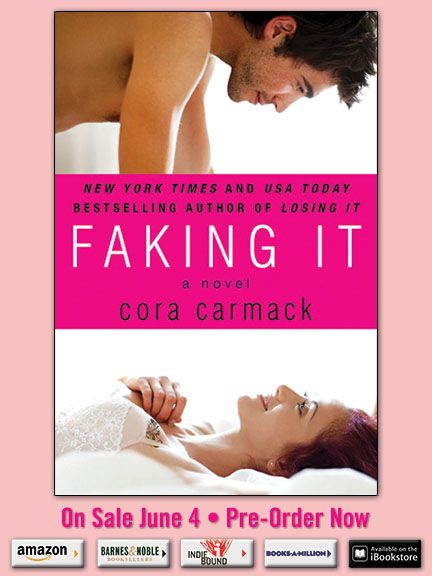 Faking It's cover! Isn't it pretty? I love it. It matches its predecesor perfectly. Cover-Cade is hot! And we already know he's super sweet. In case you are a non-believer (shame on you) here's the blurb:
Mackenzie "Max" Miller has a problem.
Her parents have arrived in town for a surprise visit,
and if they see her dyed hair, tattoos, and piercings, they just might disown her.
Even worse, they're expecting to meet a nice, wholesome boyfriend,
not a guy named Mace who has a neck tattoo and plays in a band.
All her lies are about to come crashing down around her,
but then she meets Cade.
Cade moved to Philadelphia to act and to leave his problems behind in Texas.
So far though, he's kept the problems and had very little opportunity to take the stage.
When Max approaches him in a coffee shop with a crazy request
to pretend to be her boyfriend, he agrees to play the part.
But when Cade plays the role a little too well,
they're forced to keep the ruse going.
And the more they fake the relationship, the more real it begins to feel.
Cover-Max looks just like I imagined her from the blurb. Given Cora's records, it's safe to say this one will be hilarious and romantic. If you haven't read Losing it, the paperback releases in the U.S. on February 26, 2013.
I am ridiculously excited about this book. June, be here already. Or not. I turn 23 in June so I'm conflicted.